After the Smoke Clears: A Forum on the Eagle Creek Fire and Recovery
Thursday, November 30, doors at 5:45, show at 6:30 pm
Bowe Theater, Hood River Valley High School
Please join us Thursday for After the Smoke Clears a forum featuring multimedia presentations on what happened in the Eagle Creek fire and examining key challenges moving forward, featuring insights from a collection of noted fire ecologists, forestry researchers, and leaders from local business, conservation and recreation organizations.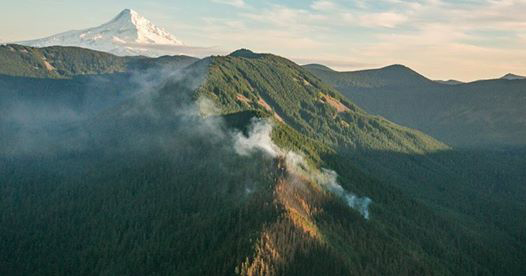 Now that rains have come, we can breathe deep and look to the forest for what it can teach us about natural recovery systems. It's also a time to look ahead at ways we can increase resilience for the land, communities, and trails that make the Gorge such a special place. Learn more about the impact of the fire on the Gorge and what you can do to help the forests naturally recover and protect cherished public lands into the future.
Jerry Franklin, Professor of Environmental and Forest Sciences at University of Washington, College of the Environment
Jürgen Hess, former Acting Area Manager of USFS Columbia River Gorge National Scenic Area
Caroline Park, co-owner at Thunder Island Brewing Co., Cascade Locks
Michael Lang, Friends of the Columbia Gorge Conservation Director
Eagle Creek Post-Fire Film by Trip Jennings
Event Facilitator: Heather Staten, Hood River Valley Residents Committee, Executive Director
Hosted by Hood River Valley Residents Committee, Friends of the Columbia Gorge, Oregon Wild, Crag Law Center, Sierra Club, Bark, the Audubon Society of Portland, Trailkeepers of Oregon and Mazamas.